Was the pound falling overkill? At least for now, there is no hope of a rebound
FX168 Financial News (Hong Kong) News The pound sterling (1.4186, -0.0019, -0.13%) fell sharply after yesterday's (April 18) CPI data, which some analysts believe is overkill.
Viraj Patel, research analyst at ING, said that while the weaker UK CPI data sowed doubts about the BoE's rate hike in May, the subsequent sharp decline in pounds and gilt yields may have overreacted somewhat. Of course, it's also good to see the UK market back to being driven by economic data.
On the other hand, the UK government's veto of the customs union does not necessarily disadvantage the pound in our view, Viraj Patel said. At least it doesn't add to the risk premium associated with political uncertainty in the UK that the pound is already pricing in (unless the risk of a general election or a second Brexit referendum increases). Therefore, we maintain our target for GBP/USD at 1.45 in 2018. But for now, the upward momentum may temporarily die.
Technical analysis
Commerzbank Senior Technical Analyst Axel Rudolph after technical analysis of GBP/USD believes that 1.4377 is the key position at present.
He noted that the GBP/USD pair fell towards February's mid-term high of 1.4145 after rising to the April high of 1.4377. Below this is the late February high of 1.4070 and 1.4013/02 at the 55-day moving average and the six-month uptrend line.
Intraday closer to around 1.4377 requires confirmation of a bullish trend reversion. Above the April 17 high of 1.4377 is the April 2015 low of 1.4565 and the 2007-2018 resistance at 1.4957.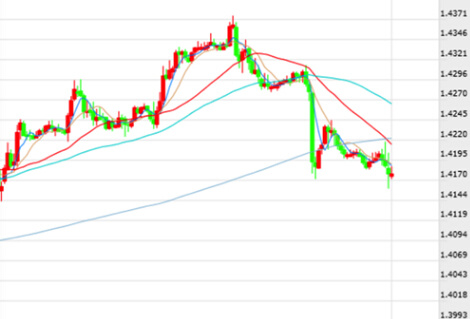 GBP/USD 60-minute chart
At 17:32 Beijing time, GBP/USD was trading at 1.4179.